How OmniSOS Mitigates Your Risk Exposure
Assessing Your Risks
Risk assessment implies inherent risk. In other words, it's not a matter of if but when your WordPress or Joomla site will be the target of a well-planned attack and most likely infiltrated (aka, "Hacked" or "Compromised"). Having no security plan in place is a recipe for disaster. Therefore, we scour your site for vulnerabilities making certain we've secured the perimeter, raised the gate, and stationed our iKnights and Elite Team on guard.
Deploying Our Elite Security Team

Today, you can't afford not to have an advanced security team in place given the active and aggressive cyber-threats emerging at an alarming rate. With OmniSOS you get two elite security teams for the price of one: our 24/7 iKnights and our Elite Security Team. We lock-down your site, setup up robust security protocols, establish frequent backups, scan for malware, check for unauthorized file mods, and much more.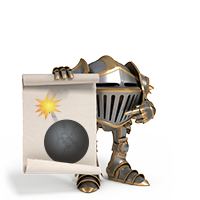 Preventing Costly Disaster Recovery

A cost of doing nothing could be catastrophic. The costs of being hacked—time, hourly expense, lost revenue, damaged consumer confidence, etc.—easily outweigh our affordable advanced security plans. OmniSOS deploys advanced security methods making it highly unlikely you will face such a disaster. If compromised, we stand ready to restore or repair your site should the unlikely happen.
Common Dangerous Vulnerabilities
The High Cost of Doing Nothing
Your Likelihood of being Hacked without Advanced Security
100%
– Your Likelihood of Being Hacked with OmniSOS' 24/7 Knight Watch Security
1%
Average Cost of Recovery without a Security Plan
(costs range from $2400 to $7,200)
Secure your site for less than a cup of coffee per day
Access to the OmniSOS Elite Security Team
Comprehensive security review of site
Secure, frequent fail-safe offsite backups
Advanced WordPress Firewall
Frequent Malware scans
Monitoring subtle changes in files
Monitoring SPAM activity on site
Monitoring Blacklist activity
Prevention of DDoS
Prevention of Brute Force attacks
Prevention of MySQL Injections
Prevention of Trojans/Viruses
Rapid site recovery and re-deployment
and much more…